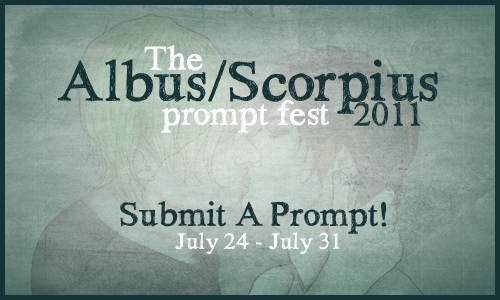 Reminder of the Rules:
♥ Albus/Scorpius has to be the main pairing for any prompt you submit.
♥ Secondary pairings are allowed as long as AS/S is the focus.
♥ Your prompts can be as vague or specific as you want.
♥ A prompt can be a word, a kink, a book, a song, a picture, a quote, a scenario, a story summary, or anything else you can think of.
♥ If you plan on submitting a picture or art prompt, please link to the picture rather than posting it in your comment. Add [NWS] if it's a porn pic ;)
♥ You don't have to claim a prompt to submit one.
♥ You may submit as many prompts as you like.
♥ Please post each prompt in a new comment.
♥ Please use the following template to submit your prompt:
Please direct any questions to the
rules & information post
or send us an email to the.ass.fest@gmail.com!
Prompt Submission will close on July 31st at midnight EST (Eastern Standard Time)!
Have fun! :)
And in case you want to pimp this post, just copy/paste the following code ;)